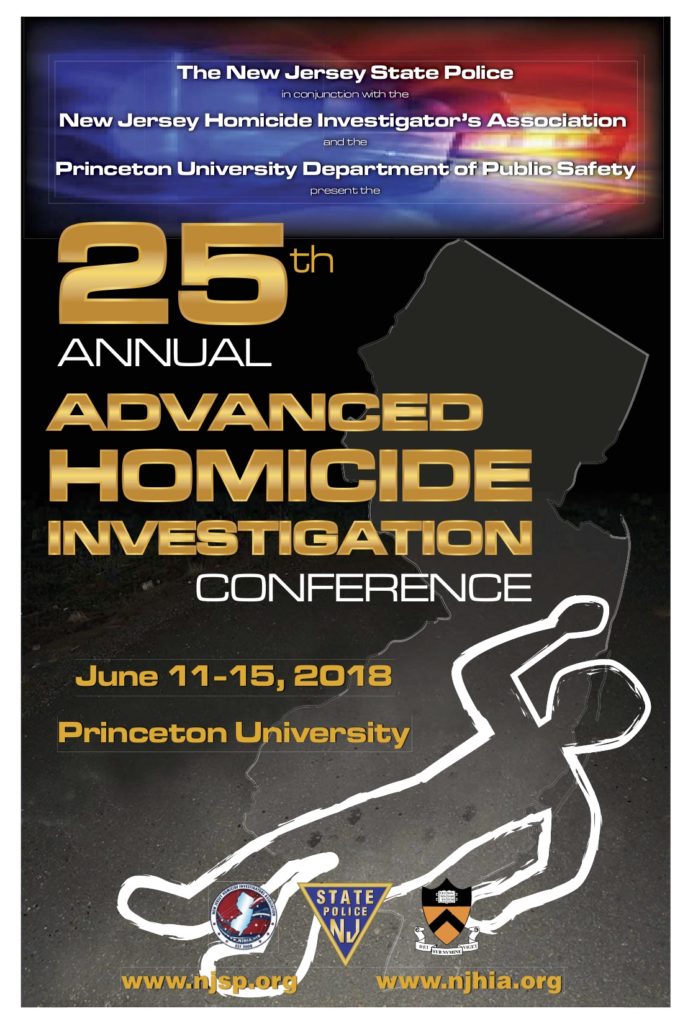 The New Jersey State Police Homicide Unit, the New Jersey Homicide Investigator's Association, and the Princeton University Department of Public Safety cordially invite you to participate in our 25th Annual Advanced Homicide Investigation Conference. The conference will be held on the campus of Princeton University.
The conference is designed to meet the needs
of investigators and supervisors tasked with the investigation of homicides, suicides and unnatural deaths. Topics of discussion include: interview and interrogation, child abduction/child abduction homicide, behavioral analysis, media relations, homicidal drowning, crime scene reconstruction, blood pattern analysis & leadership, as well as major case studies.
All attendees will receive a comprehensive notebook containing writings and information supplied by the speakers, as well as a class roster. In addition, attendees will have ample opportunity to discuss their own cases with investigators from across the United States and several foreign nations. We have designed the conference to provide social activities which facilitate networking and small group discussions between the attendees.
We sincerely hope a representative from your agency can join us in Princeton this year for a conference that will be educational, practical, and a pleasure to attend.
*****
Conference Highlights
Interview & Interrogation

Presented by Lieutenant Jerry Lewis New Jersey State Police (Ret.)

Child Abduction/Child Abduction Homicide/ Behavioral Analysis

Presented by Supervisory Special Agents Mark Mackizer & Daniel O'Donnell, FBI

Homicidal Drowning

Presented by Andrea Zaferes, Lifeguard Systems

Media Relations in Homicide Investigations

Presented by Detective Mike Sheehan (Ret.), NYPD

Crime Scene Reconstruction & Blood Stain Analysis

Presented by Chief Deputy Rod Englert (Ret.) Multnomah Co. Sheriff's Office, Portland, OR

Cold Case Homicide Investigations & Why Cases Go Cold

Presented by Det. Tom McAndrew, Lehigh County Homicide Task Force & PA State Police (Ret.)

Chris Kyle Murder Investigation Case Study

Presented by Ranger Danny Briley, Texas Rangers

Leadership Training

Presented by Leif Baben & JP Dinnell of Echelon Front

Private Tour of Princeton University

Presented by Princeton Tour Company Followed by a Social Reception

Tour of the National September 11th Memorial & Museum at the World Trade Ctr.
Dinner Cruise on the Hudson River

Includes viewing of the Statue of Liberty and NYC Skyline

Formal Banquet

To be held at the historic Prospect House at Princeton University
*****
Course Information
JUNE 11-15th, 2018
Registration will be from 6:00 to 9:00 PM on Sunday, June 10th, 2018, at the Hyatt Place, located in Princeton, and from 8:00 to 8:30 AM at the Frist Center on Monday, June 11th, 2018. Opening ceremonies begin at 8:30 AM in Albert Einstein's original lecture hall located on the 3rd floor of the Frist Center.
Location:
The educational part of the conference will be held in Dodds Auditorium on
the grounds of Princeton University in Princeton, New Jersey. A food court, university store, and other amenities are located within walking distance of the auditorium.
Conference Tuition:
The conference tuition is $675, and includes the conference book and
other learning materials. A well-stocked continental breakfast, morning coffee,
and afternoon snack are also included. In addition, tuition includes a Monday evening reception and Thursday evening banquet, as well as additional social activities.
Social Activities:
On Monday, conference attendees are invited to attend a private tour of Princeton University by Princeton Tour Company followed by a social reception. On Tuesday, conference attendees will be bused to Liberty State Park for a boat ride across
the Hudson River to experience a tour of the National September 11th Memorial & Museum located at Ground Zero, followed by a dinner cruise on the Hudson River with views of the Statue of Liberty and Manhattan Skyline. On Thursday evening, conference attendees are invited to attend a formal banquet at the Prospect House, which is a historic mansion located on the Princeton University campus.
Registration:
Please complete the registration form found HERE and email to LPP6507@GW.NJSP.ORG or LPP7038@GW.NJSP.ORG.
Checks should be made out to New Jersey Homicide Investigator's Association – Federal Tax ID No. 26-3742994. Class size is limited, therefore early registration is strongly recommended. Upon registering for the conference, you will subsequently receive an email confirming registration and with more detailed information and instructions.
Lodging & Transportation
Lodging and transportation are the responsibility of the participant. The Princeton Hyatt Place, located a short distance from the conference, is the official hotel of the conference and will
be the location of several conference events. The Hyatt Place is offering rooms to conference attendees at a reduced rate (call 609-720-0200 and mention group code G-NHI2 when booking). Please make your reservation early as the hotel typically is sold out during the week of the conference. Other hotels in the Princeton area are also available a short drive away.
Additional Information
For additional information or questions regarding registration, please email or contact either:
Detective Sergeant Joseph Itri, NJSP Homicide South Unit
at lpp6507@gw.njsp.org 609-882-2000 ext. 5215, or
Detective I Michael Hughes, NJSP Homicide South Unit
at lpp7038@gw.njsp.org 609-882-2000 ext. 5215.